Simple Tech Business Services
You can save tens of thousands of dollars per year!
You can locally outsource your IT needs to Simple Tech Innovations for a small fraction of the cost of hiring a computer technician onsite. Save tens of thousands of dollars per year and hire the entire Simple Tech Innovations team! The average salary of a computer technician in Rochester, NY is $35,000 per year (according to Salary.com). Call us today at (585) 200-3182 for a free quote to find out how much you can save!
Your IT service provider right in your neighborhood
Simple Tech Innovations can solve most of your problems remotely. However, as a locally owned and operated company, we are only a short drive away when you need us on-site. You can have peace of mind knowing that your problems will be handled quickly and effectively by real people that you know.
Essential Business Services
Simple Tech Innovations provides solutions based on you and your company's needs. You can take advantage of our services as problems arise or you can sign up for our monthly support and maintenance plans to proactively prevent problems. You can view some plan outlines below but please note that every business we work with has a unique plan that we have created around their budget and priorities.
Network Installations
Simple Tech Innovations custom network solutions provide economical solutions for every network installation. We offer a variety of products to fit the needs of each network. Whether your network is large or small we have a solution for you. We do new installations, and build onto existing installations. Our experienced technicians will ensure that your network is set up to run at the best possible performance, while looking professional and clean.
VPN Solutions
We offer site-to-site VPN solutions along with client-to-site VPN solutions to make sure that your satellite offices and outside employees can access your systems, and software remotely and securely. We can configure your VPN to comply with HIPAA standards!
Network Audits and Security
The staff at Simple Tech Innovations participates in security competitions and audits to ensure that we are up to date on current security and security vulnerabilities. When we install a network we make sure it is secure from outside attackers and possible exploits. If security is a priority for your home network or your business network, give us a call and we will audit your network to identify weak points in your network security that could lead to issues such as data loss or identity theft. Our audits are extensive and will help us help you patch any security holes that exist on your network.
"One Year ago today Simple Tech Innovations stood by the side of Podiatry Associates of Rochester for two solid weeks while we transitioned in the world of Electronic Medical Records. One great IT company – they definitely stand behind what they offer. Thank You ANDREW and your staff WE SURVIVED!!!!!!!"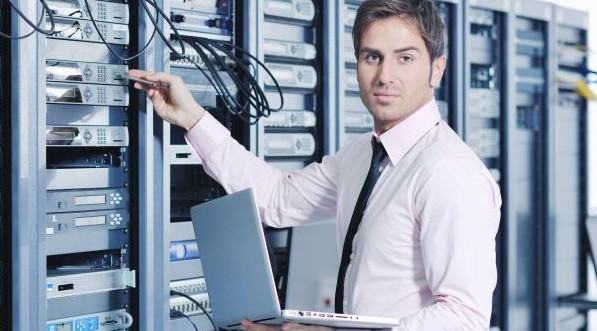 "Simple Tech was more than willing to help with all of my PC needs. I would recommend them to anyone — they do everything from trouble shooting to new installs to EMR file and products… A MUST use"
Business Support Plans
Phone Support
Our phone support packages provide you and your staff with over the phone troubleshooting, diagnostics, computer repair and IT support. Our staff can walk you through fixing network connectivity failures, computer problems, printing issues, software glitches, and more over the phone. We work hard to keep you up and running all day long. Most issues are resolved over the phone in 10 minutes or less.
Online Support
Our newest edition to our Support Services is our Simple Support service. This is a remote assistance service that allows us to share screens with our customers and fix almost any computer related problem over the phone and through an internet chat. This service is highly effective in providing our customers with fast, efficient, and reliable services. Our Simple Support app can be accessed here.
Let us know how we can help!